Asbestos gaskets
DELTAONE offers complete range of asbestos rubber gaskets. We manufacture temperature from 150 C degree to 650 degree C. We import asbestos fibers from Russia, high quality, and lowest prices.

Asbestos rubber gasket is suitable for pipe flange, pump, valve joint.
Asbestos Rubber Gasket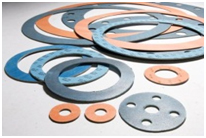 > Asbestos gaskets are cut from asbestos rubber sheets > Suitable for use as an oil-resistant jointing medium for heat installations and engine sealing.