Non-asbestos gaskets
DELTAONE supply complete range of non-asbestos gaskets. Different temperature different color and performance, with vulcanization processing, we manufacture oil-resisting non-asbestos gaskets. We constantly improve the technique level, at present had produced non-asbestos sheet match with KLINGER 4 series, and GARLOCK 3 series. Non-asbestos Gaskets is suitable for pipe flange, pump, valve joint.
Non-asbestos Rubber Gasket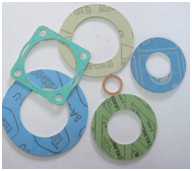 > Non-asbestos gasket cut from non-asbestos rubber sheet
> Suitable for use as an oil-resistant jointing medium for heat installations and engine sealing.